Important Information – Covid 19
We are delighted to be able to welcome guests to Harpers Cottage and although the worst of Covid seems to be behind us we are still following some guidelines for your wellbeing.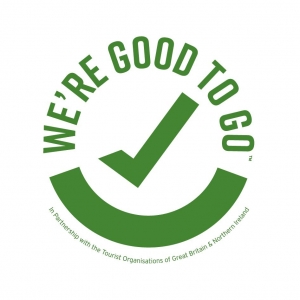 We have been issued with protocols that outline new cleaning and safety requirements and we are happy to tell you that we have met with Visit Britain's very high C-19 cleaning standards. These are to ensure your safety, and that of our staff, and our family.  It will, however, mean that things are slightly different from usual, and we will be asking for your cooperation with a few things.  You can see them here
Cleaning will take extra time – we now have to "double clean" – first our usual high level cleaning, and then going over everything again with a virucidal sanitiser.  We also have to rewash crockery (even clean stuff) between guests.  This means that we need extra time for each changeover, so arrival and departure times will now be 5pm arrival (rather than 4pm), and 9.30 am departure (rather than the usual 10am).  We understand it is inconvenient, but it is really important that you allow us this extra time to ensure your safety.  Please help us by observing these times.
Septic Tank – Please DO NOT use bleach or anti-bacterial products in the sink, as they will upset the septic tank.  The cleaning materials supplied are eco-friendly, and we have supplied you with antiseptic wipes for disinfecting surfaces without upsetting the water treatment system.
Please Strip your Beds before leaving – Not glamorous, on the last day of your holiday, we know.  However, as 7/10 people who have had the antibody test did not have any symptoms, the Government is advising we have to assume that someone in your party COULD be carrying the virus.  The main route for contracting the virus is airborne, and it is considered that removing bedding could make the virus airborne, which is why they advise asking guests to strip the beds themselves.
Please empty all bins (including bathroom bins) and put into the outside bins.
Please fill the dishwasher with a full load of crockery and cutlery and set it running before leaving (do not empty it).  We are now required to re-wash everything between guests, so it would help hugely if you could put any dirty crockery/cutlery in the dishwasher before leaving.
Some things may be missing – to reduce the risk of touch contamination, we have been advised to remove as much as possible from the cottages.  This means that decorative cushions and throws, ornaments, paper information leaflets, toys, games, etc have been kept to a minimum.  We have also reduced the quantity of some kitchen equipment, as the requirement to rewash every item between guests (even if it is clean) would not be possible in the time with the usual quantities.
If you develop symptoms – we sincerely hope that you will have a happy and healthy holiday.  However, should a member of your party develop symptoms, the Government advice is to return to your primary residence, and self-isolate there for a period of 7 days (14 days for the other group members).  Please do let us know if you do develop symptoms, as the cleaning protocols for the cottages are different.
We hope that you will have a fabulous holiday.  The "new normal" may be slightly different than what we are all used to, but it is great to be able to get away again, and if we all take responsibility for minimising risk, then hopefully we won't get locked down again!
If you have any questions, please call us – landline 01579 383745, Ute's mobile 07786087257
Thank you!
Other information
A very warm welcome to Harper's Cottage where we hope you have a wonderful stay. We are always around to help with any questions that you might have so either drop round to the house or give us a call (01579 383745) anytime.
We've tried to include information here that may be useful, like local doctors, dentists, hospitals, churches, ATMs, taxis, post offices, car repair garages.
IMPORTANT – Harper's Cottage is not connected to mains sewerage. It is very important for the correct functioning of the system that NO animal fats are put down the sink (please wait until it has congealed, and put the solid matter in the bin). We are also unable to use bleach, anti-bacterial detergents or any biological agents. We therefore provide you with environmentally suitable washing machine, dishwasher and cleaning agents and would be grateful if you would ONLY use these.
Please also DO NOT dispose of tampons, sanitary towels, condoms etc down the loo. We have provided covered bins in all bathrooms for this purpose. This will prevent any unpleasant back-ups in the system which could affect your enjoyment of your holiday. Thank you for your cooperation on this issue.
Health & Safety
You are very welcome to use all of the garden. All the fencing is topped with barbed wire for stock control, and not suitable for climbing on or over; some of this is concealed.
Fire
Recent fire regulations have been introduced to help mitigate the outbreak of fire and please rest assured that we are complying with these. Things that you should note for your own safety:
there is no smoking inside or outside of Harper's Cottage.
candles, tea lights and any ethanol based burners are not permitted anywhere on the premises
there is a stand alone heater in the hallway cupboard in the event the main heating is not working. This should be placed well away from walls, furnishings etc when in use and of course nowhere that a dog could knock over. It should only be used when you are in the cottage and not left on if you go out.
there is a fire extinguisher and blanket in the hallway but you are under no obligation to tackle any fire with these. Our advice is that you exit the cottage by the fastest means and then contact the Fire Services and ourselves.
there are CO2 and smoke alarms on the ceilings in the kitchen, hallway and bedroom. If one is triggered they will all go off so you'll certainly hear them.
there are two wall/socket mounted torches which will switch on in the case of power failure and also movement.
the front door and the conservatory door can be opened from the inside without having to use a key (thumb locks). Please familiarise yourself with how these operate when you arrive.
if you notice any wiring or switches that seem a bit strange – noise, smell or not working, please let us know immediately.
familiarise yourself with the cottage layout, exit doors and windows on arrival.
there is a gas BBQ in the garden. Please familiarise yourself with its operation – turning gas on/off before and after use and ignition system.
We perform regular checks on all the gas equipment – boiler and cooker. We also have an Electrical Installation Certificate for the electrics in the cottage which is renewed every five years and we PAT test our appliances.
Bins
Bin liners are provided. Please put any full bin liners, tied at the top, in one of the black dustbins outside.
Recycling – leave all items that can be recycled (bottles, plastic, card/paper) in the other black bin and we will sort that.
Taxis
There are a number of small taxi firms which operate locally – advance booking is definitely recommended! There is a Black Cab system in Plymouth itself and it is fairly easy to hail a cab or find one at one of the cab ranks. Kit Hill Cars also has a people carrier, which takes up to seven passengers – 07920 473747. Two other Saltash-based firms – Double Two can be contacted on (01752) 848422 (ask for Lionel!) and Cottons on (01752) 848484. Our postcode for SatNav is PL17 7HJ but as this covers a big area we suggest you ask them to use Google and head for Trehill Holiday Cottages; we're next door!
Local Shopping
Tesco is our closest supermarket (also has a petrol station) and is left at the second roundabout on the road from here to Tavistock; you'll pass Ginsters pasty factory on your right then take the next right.
There is a Waitrose on the road to Saltash/Plymouth about 20 mins away with LIDL just over the roundabout.
There is a Morrison's, Aldi and Pets at home in Liskeard, about 20 mins away.
Tre Pol Pen on the road to Launceston is our nearest farm shop and if you carry on into Launceston there's a Tesco Superstore, M&S Food and Pets at Home.
Health and Emergencies
Doctors Surgery
Callington Health Centre
Haye Road, Callington
T 01579 382666 SN PL17 7JJ W www.tamarvalleyhealth.org.uk/
Dentist
C.R. Mercer
The Archway Dental Centre
5-6 Well Street, Callington
T 01579 383300 SN PL17 7AU
Dentist
Miles Bray
St Mellion Dental Clinic
Briston Orchard, St Mellion
T 01579 350831 SN PL12 6RQ W www.stmelliondentalclinic.co.uk
Hospital
Derriford Hospital, Plymouth (large teaching hospital with full A&E department)
T Switchboard 08451 558155 SN PL6 8DH
Hospital
Liskeard Community Hospital (10 miles away)
Minor Injuries clinic 8 am to 10 pm daily (they do have an X-ray department). Generally much shorter waiting times than Derriford, so would be my go-to option rather than Derriford A&E for non-life-threatening situations during opening hours.
T 01579 373500 SN PL14 3XD
W http://www.cornwallft.nhs.uk/hospitals/liskeard/
Osteopath
Saltash Osteopathy Clinic
The Lodge, Brooks Hill, Saltash
T 01752 848543 or 07904 376964 SN PL12 6BP W www.saltashosteopath.co.uk
Chemists
Saltash:
Saltash Pharmacy
6 Regal House, Fore Street, Saltash
T 01752 848958 SN PL12 6JR
Lloyds Pharmacy
19 Fore Street, Saltash
T 01752 842606 SN PL12 6AF
Superdrug
Regal House, Fore Street, Saltash
T 01752 845616 SN PL12 6JR
Callington:
Lloyds Pharmacy
17-18 Fore Street, Callington
T 01579 383106 SN PL17 7AE
Police
Central Control – 0990 777444
Callington – 01579 382203
Saltash – 01752 853223
Other Useful Places
Banks and ATMs
Saltash has branches of NatWest (ATM), HSBC (ATM), Barclays (ATM) and Lloyds (ATM), all of which are on Fore Street (Postcode for Sat Nav is PL12 6AJ)
Callington has branches of NatWest (ATM), Barclays (ATM) and Lloyds (ATM), all on Fore Street (Postcode for SatNav is PL17 7AH).
There is also an ATM at the garage in Hatt, but this is chargeable. Waitrose and Lidl in Saltash both do Cashback.
Churches/Places of Worship
Church of England – Pillaton has a lovely church, but Sunday services alternate between Pillaton, St Mellion, Landulph and St Dominic's churches. See http://pillaton.org.uk/notices.html for details of services on specific dates. The
SatNav postcodes for the churches are as follows:
Pillaton – PL12 6QS
St Mellion – PL12 6RG
Landulph – PL12 6NG
St Dominic – PL12 6TH
Roman Catholic – Our Lady of Victories, Lower Coronation Terrace, Callington PL17 7BY. Sunday Mass 6pm in summer and 5 pm in Winter.
Baptist – Saltash Baptist Church, Culver Road, Saltash PL12 4DR www.saltashbaptist.co.uk
Synagogue – Plymouth boasts the oldest Ashkenazi synagogue in the English speaking world. They welcome all Jewish worshippers, regardless of orthodoxy. SN PL1 2AD W  www.plymouthsynagogue.com/
Mosque – Plymouth & Cornwall Islamic Centre, 112 North Road East, Plymouth, PL4 6AW
Other Faiths – For details of places of worship for Baha'i, Humanist, Buddhist and Sikh, please see http://www.plymouth.gov.uk/otherfaiths
Post Offices:
Hatt Service Station Post Office
T 08457 223344 SN PL12 6PW
Saltash Post Office
36-38 Fore Street, Saltash
T 01752 842704 SN PL12 6JL
Callington Post Office
42 Fore Street, Callington
T 01579 370201 SN PL17 7AQ
Car refuelling (including gas and electric charging point)
Tesco has a petrol station and it's usually one of the lower priced; open until 10pm.
There are two petrol stations (Gulf and Texaco) on the A390 to Gunnislake about 10 and 15 minutes away.
Car repairs
There are three garages in Callington on the road out to Launceston. We also own our own garage in Lifton so we know a bit about cars – just ask us if you need assistance!
Your widget will appear here.
Newly renovated accommodation
Private parking
Private garden with hot tub
Peaceful location close to amenities
Outdoor seating with BBQ facilities
Ideal for the coast and moors or Plymouth
Great for walks and bike rides
Ground floor accommodation
Sleeps 2 in King size bedroom
Spacious living area
Fully fitted and well-equipped kitchen
American-style double fridge freezer
Private garden with outdoor seating and BBQ
Patio with covered hot tub
Bath Room with Bath/shower over, WC and basin
Central heating throughout
Heated towel rails (independent of central heating)